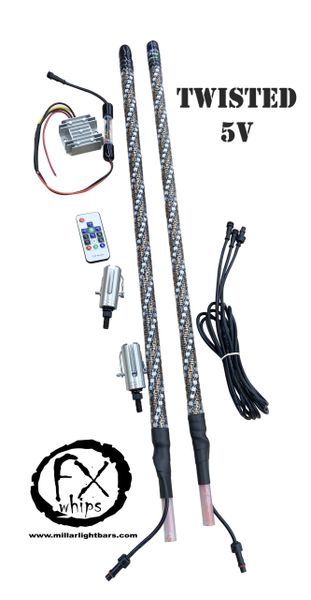 PAIRS TWISTED 5V
2' whips measure - 22"
3' whips measure - 33"
4' whips measure - 44"
(this is without colored tip)
Our Twisted 5V whips are the brightest on the market!!
They are programmed with 300 functions, you are able to add up to 16 of your favorite functions on your remote control!
Kit includes
ALL WATERPROOF CONNECTIONS
Waterproof control box
Wireless remote control
6' y split extension cord 
Quick disconnect mounts
5v to 12v converter 
THESE WILL NOT HOOK UP TO 12V WITH OUT CONVERTER ( included) 
must run the control box to a toggle switch.
FAQ:
Q: Whats the difference between the TWISTED EXTREME and the TWISTED 5V?
A: The 5v is brighter and has a tighter pattern. Every single LED will change.
The Extreme will go in a group of 3 LEDs that change together. 

Reviews