TWISTED EXTREMES - SINGLES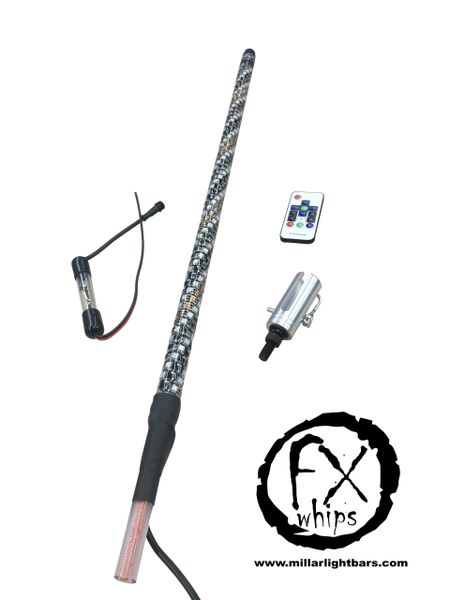 TWISTED EXTREMES - SINGLES
MADE IN TEXAS
Must run to toggle switch or a cut off. Can not be wired DIRECTLY to battery.
---
2' whips measure - 23"
3' whips measure - 32"
4' whips measure - 44"
Handheld remote has a RF frequency. Does not need to be close or pointed directly to operate. Control box has roughly 250+ patterns and functions to choose from. For example: STACKING, CHASING, RAINBOW, SOLID OR MULTICOLORED. You can save 16 of your favorite patterns on your remote along with the ability to adjust the speed. You can lock your whips to your control box with the remote so no one else can control it.

Bluetooth control box (App is LED HUE) This option will give you 122 preset patterns and functions with the ability to dim, adjust speed or operate a color wheel.  Some functions include: RED WHITE AND BLUE, STACK, CHASE, RAINBOW, DRIP LEDS. 

Quick disconnect mounts for easy removal. Bolt on installation. This quick disconnect stays attached to the vehicle. You will use the pull pin to remove the whip from the mount.

Very flexible polycarbonate tubing, we have reinforced the middle of our whips for extra durability.

Lifetime manufactures warranty through us.
Reviews