DD AUDIO M2500 M SERIES MONOBLOCK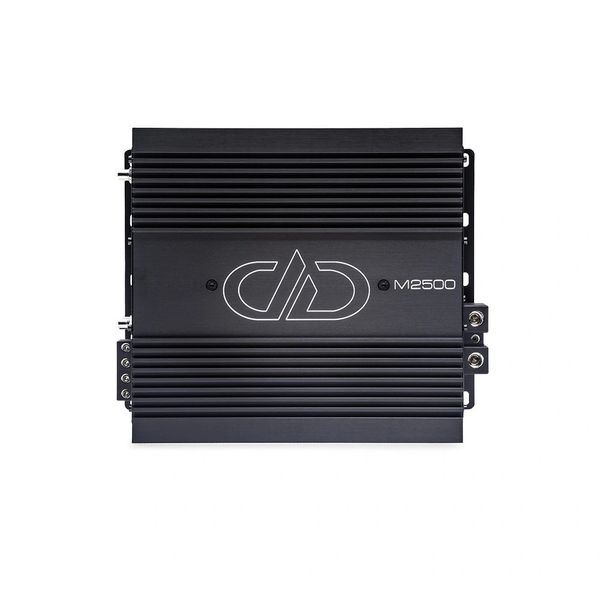 DD AUDIO M2500 M SERIES MONOBLOCK
DD AUDIO continues to redefine the venerable M Series with revisions that greatly improve power and efficiency without increasing unit size. The M2500 incorporates the finest in ultra-high current devices and optimizes their usage with intelligent configuration to successfully maintain the modest footprint of its predecessor.
Using design features borrowed from the award winning Z12000, the new M Series expands its operating voltage with improvements to the power supply, output section, and high efficiency heat sink, giving it a 16v max operation that takes full advantage of today's lithium batteries. These enhancements allow the best power to footprint ratio to date!
To further enhance performance, the M Series features new end panels, raising the amps off the mounting surface, allowing the internal fan to pull more air through the PCB even on carpeted or padded surfaces.
These high current half bridge amps are more compact, lighter and pack more punch than any previous M Series.
COMING SOON! We will have an aftermarket app controlled LED vanity plate upgrade available for all M Series models. The vanity plates will be manufactured and shipped from our US factory.




M2500: 2500w – Compact Monoblock Amplifier
Operating Voltage:

9 - 16

Test Voltage:

14.4

Input Channel(s):

1

Continuous Wattage @4ohm:

1000

Continuous Wattage @2ohm:

1500

Continuous Wattage @1ohm:

2500

Dynamic Wattage:

4000

Max Current Draw (Amps):

400

RCA Input Voltage Sensitivity:

8 - 0.2

RCA Input S/N:

> 97

Damping Factor:

> 400

Frequency Response (Hz):

20 - 500

Sub-Sonic Filter:

20 - 250Hz

Low-Pass Filter:

50 - 500Hz

ZVL Input:

Yes

Pass Thru Output:

No

Remote Control:

Remote Included in Box

Power Wire Gauge:

1 x 0

Speaker Wire Gauge:

10

Dimensions (Inches):

9.5 x 9 x 2.6

Dimensions (MM):

240 x 230 x 66

Price (USD):

749 

each




Features
Optimized Über High Current Power Supply

Strappable Half Bridge Design

ZVL Linking Module Input

24dB/Oct Bandpass Filters

Custom Vanity Plate Ready

Remote / LCD Voltage Display and Clipping Indicator

2500 Watts RMS Continuous Power




Reviews